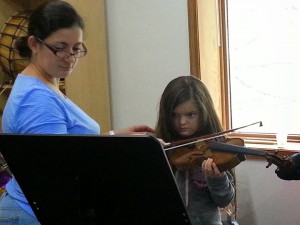 Violin is one of the most classic and beloved instruments in the world. The violin, while it has ancient origins, acquired most of its modern characteristics in 16th-century Italy, with some further modifications occurring in the 18th and 19th centuries. Though violin is often associated with classical music, today it has found new life with contemporary audiences in jazz, country, experimental, and rock music.

The recommended age to start violin lessons is 6. Children ages 4 to 5, in most cases, are not mature enough for private music lessons. Very young children do not understand the concept of homework and usually do not have the attention span or maturity required for practicing an instrument. You may want to enroll your child in Music Impressions program first, for fun and exposure to music and musical concepts, before enrolling in private violin lessons.
Every student deserves the best music instruction. Beginning, intermediate and advanced violin lessons are available including orchestra auditions and preparation for college.